Hours
Sundays, April – October
2:00 – 4:00 pm
Closed on Easter, Mother's Day, and Father's Day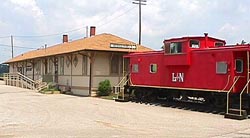 The Hawesville railroad station was built in 1902 out of Southern pine, and stood 18 feet wide by 81.5 feet long.  It is next to the railroad tracks on River Street along the Ohio River bank.
The Hawesville railroad station served as the chief transportation center for Hancock County for many years. Harry S. Truman stopped there to make a speech during his 1948 presidential campaign.
The last passenger train passed through the old station in 1959. The station later served as Hawesville's City Hall for 16 years. In 1981 the town constructed its present city hall building, leaving the depot to fall into disrepair. It was sold to the Hancock County Historical Society for $1 and a lease was signed with CSX Railroad to leave it in intact. The historical society raised funds and used volunteers to restore the building and convert it into the present Hancock County Museum. The restoration was completed in 1987 and the museum's formal opening occurred in 1988.
The Hancock County Museum contains a collection of artifacts representing all facets of county's history, including farming, river traffic, railroads, schools, art, and family life. The courtroom scene displays artifacts from the courtroom in the Old Courthouse.