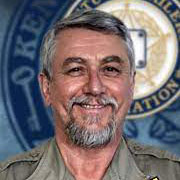 Roger Estes
Jailer
Hancock County Government
Meet Jailer Roger Estes
The Jailer is responsible for the fulfillment of the Fiscal Court's requirement to provide for incarceration of prisoners arrested, sentenced or held by order of the District and Circuit Courts in Hancock County.
Hancock County does not operate a county jail. Instead, the county finds that it is economically advantageous to contract with Breckenridge County for the incarceration of county prisoners.
While Hancock County does not operate a jail, the jailer is responsible for transportation of persons arrested in Hancock County to the Breckenridge County Jail and maintaining custody of inmates when making court appearances. The Jailer collects jail fees and is the home incarceration program administrator. The Jailer also serves as a bailiff during court proceedings.